The Best Central Air Conditioners of 2020
New central air conditioners run more efficiently and can save you money compared to your existing unit. Air conditioners that are properly installed and maintained will cool your home for the next 12-15 years.
Highest User-Rated Air Conditioners
Best Overall
1. Goodman DSXC18 Central Air Conditioner
Highly efficient
Inexpensive
Better than average warranty
View details
Best Value
2. Goodman GSX16 Central Air Conditioner
Mid-level efficiency
Inexpensive
Better than average warranty
View details
Best Warranty
3. Amana ASX14 Central Air Conditioner
Moderately efficient
10-Year warranty
Single-speed condensor
View details
How Our Ratings Work
Consumers and homeowners have submitted thousands of reviews to this site. Each reviewer rates their experience from 1 ("Very Unsatisfied") to 5 ("Very Satisfied"). We aggregate those ratings, then filter the top results for units that are still being sold today.
Air conditioner models on this list have had at least 7 user reviews submitted to help ensure a better average score.
The 10 Best Central Air Conditioners of 2020
Air Conditioner Prices
Below are average air conditioner prices with the complete system installed based on cooling capacity of the unit. A 1.5 ton unit has an output of roughly 20,000 BTUs and will cool a 975 sq.ft. home. Each increment of tonnage will increase the cooling capacity by 12,000 BTUs. to calculate the size AC you will need for your home, use this equation: ((Sq.Ft. x 30) / 12,000) – 1. Otherwise said, Square footage of your home multiplied by 30, divided by 12,000, and subtract 1. This will tell you how many tons your unit should be.
| | | |
| --- | --- | --- |
| Cooling Capacity | Home Size (sq/ft) | Installed Unit |
| 1.5 Tons, 18,000 BTUs | 900 – 1,100 | $3,100 |
| 2 Tons, 24,0000 BTUs | 1,200 – 1,400 | $3,300 |
| 2.5 Tons, 30,000 BTUs | 1,500 – 2,000 | $4,100 |
| 3 Tons, 36,000 BTUs | 2,100 – 2,500 | $5,600 |
| 5 Tons, 60,000 BTUS | 4,000 – 5,000 | $8,400 |
*Pricing information sourced:
Thomas, James. National Plumbing & HVAC Estimator. Craftsman Book Comapany, 2018.
We can help find the right HVAC system for your home!
Just tell us what you need and we'll find the best dealer for your project.
Thank you!
Thank you for letting furnacecompare.com connect you with a certified contractor. A local specialist will contact you shortly.
Your FurnaceCompare.com estimate is
$5,000 – $6,000
This estimate is based on current data and is not a guaranteed price. For accurate pricing contact a local HVAC pro.
Here are a few brands we recommend: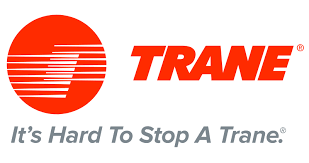 Trane
Founded over 100 years ago, Trane is a well-known provider of HVAC products systems.
Explore Trane furnaces

Lennox
Lennox specializes in innovative technologies that maximize efficiency and minimize noise.
Explore Lennox furnaces

*Estimate is based on current data and does not represent a guaranteed price. For accurate pricing contact a local HVAC dealer.
Sound Ratings
Generally speaking the top 10 series in our ratings generate between 65 – 74 decibels of sound under ideal conditions. But, how loud is that?
Several universities and noise control websites suggest that a car driving 65 miles per hour about 25 feet away generates about 70 decibels of sound. Other comparisons include a shower or the sound that a typical dishwasher makes when running.
The sound ratings are measured in decibels (dB) — the lower the decibels, the quieter the air conditioner. The actual number of decibels produced by an air conditioner is a function of both its capacity (how many BTUs of cooling it generates) and the other components to which it is connected (such as a furnace or air handler used to distribute the cold air). In general, when you see a volume range, the lowest number of decibels is for the units with the smallest capacity that are paired with quiet components (typically components made by the same brand).
Decibels are a non-linear measurement scale meaning that only half as much sound is generated at 60 dB as at 70 dB. The quietest split-system air conditioners on the market today generate sound levels between 53 – 59 decibels. These series include:
Find a Certified Heating & Cooling Professional In Your Area
Contact a top-rated local expert to help with all of your home's HVAC needs.
All split system central air conditioners consist of two units: the condensing unit (aka "condenser"), which is placed outdoors, and the air handler / evaporator coil, which is located indoors. (If you have a furnace, the furnace — with the addition of an appropriate evaporator coil — can also perform the function of the air handler). The condenser is responsible for cooling the air, and the air handler is responsible for distributing the cooled air throughout your home.
The outdoor condenser itself is made up of several components, such as the compressor, the condenser fan and the expansion valve. The compressor uses the largest amount of electricity of any of these components, and so there have been many innovations to reduce the amount of electricity required by the compressor. Compressors come in three varieties: single stage, two stage and variable speed (or modulating).
Understanding the A/C Compressor
For this discussion, let's imagine that you set your thermostat to keep the temperature in your home below 78° F. This temperature is known as your "set point".
A single stage compressor has two states: on and off. When your thermostat sees that the temperature in your home has exceeded the set point, it tells the air conditioner to turn on and cool down the home. The compressor immediately turns on, and continues to run until the temperature is lower than the threshold. Then, the compressor turns off.
There are two primary benefits of a single stage compressor: they are simple and they are cheap.
There are three downsides. The first two are related to your compressor's ability to cool your home: single stage compressors are less efficient than their more sophisticated counterparts, and they tend to be louder.
The third downside has to do with the level of humidity in your home. Air conditioners remove humidity as a side effect of cooling air. Because single stage compressors are either working at 100% capacity or not working at all, they tend to be "on" less than two-stage and variable speed compressors. As a result, they have less time to dehumidify your home.
A two stage compressor has three states: off, low and high. When your thermostat determines that the temperature in your home is below the set point, the compressor is off. As the thermometer crosses that threshold, the two stage compressor will start in "low" mode. If that low mode is effective at reducing the temperature, then the compressor will never cross into its highest capacity state. (If the lower capacity state doesn't reduce the temperature enough, then the system will eventually shift into high gear to combat the rising heat).
The advantages of two stage compressors over their single stage cousins include:
Two-stage compressors often uses less electricity.
They often run more quietly.
Variations in temperature in your home are typically less dramatic.
They usually dehumidify more consistently.
The disadvantages are that the system is mildly more complex, meaning that there are more moving parts to break, and the upfront (and replacement) costs are higher.
A variable speed compressor can run at many different speeds: it can, of course, be off entirely. However, when the thermostat requests cold air from the air conditioner, the variable speed compressor can run at 25 – 30% of capacity. Or it can run at 90-100% of capacity. When outdoor temperatures are high variable speed compressors tend to run for much longer periods of the day than a single or two-stage compressor might, but draw much less electricity to keep the temperature below the set point. Because of these long run times, homeowners are likely to notice much more consistent humidity control as well.
It's worth explicitly addressing one of the potential disadvantages of two-stage and variable speed compressors: Simpler systems tend to break less often than more complex systems, and they tend to be cheaper to fix when they do break. This argues in favor of single stage compressors. While in general this "simpler is better" ethos may be true, you still may prefer a more complex system because of the benefits it offers. In general, compressors tend to have the longest manufacturer's warranty coverage of any component.
Here are some compressor-related questions to consider:
How many days a year will you use your air conditioner? The fewer the days the less likely that the savings from a more efficient system will offset the risk of failure caused by a more complex product.
Who is going to pay the electrical bill for the air conditioner? If it's a tenant, or if you're planning to sell your home in a few years, you may prefer to install a simpler machine.
How important a factor is the health of the global environment in your decision? The higher the efficiency, the less impact your air conditioner has on the environment.
What are Scroll Compressors?
Reciprocating compressors move pistons up and down, while scroll compressors move in a circular motion.
Until the 1990s the most common compressors in a condenser were reciprocating compressors. However, most air conditioners now ship with scroll compressors. Scroll compressors were invented in 1906, so they are a hardly new technology. However, they have a number of benefits over reciprocating compressors:
They require fewer moving parts, which tends to improve reliability.
They can be more efficient.
They tend to work more quietly.
They are more compact.
Should the presence of a scroll compressor affect your decision about a central air conditioner? Probably not. Many 13 SEER condensers (the lowest efficiency that can be manufactured and sold in the United States) use scroll compressors. We were not able to find any higher efficiency condensers that used a reciprocating compressor.
Scroll compressors are found in single-stage, two-stage and variable speed configurations.
How Does the Condenser Fan Affect the Efficiency?
In residential air conditioners heat is transferred from the coolant to fins around the outside of the unit. A condenser fan draws air across the fins to disperse the heat. There have been a few improvements to the shape of the condenser fan — but, the impact on overall efficiency is relatively minor (a 2%-4% improvement). The newer fan shapes do reduce the amount of noise created by the condenser as a side benefit.
There are two types of condenser fan motors, PSC and ECM. PSC motors can be either single-stage or two-stage. ECM motors are variable speed motors. As with compressors, variable speed motors tend to be both more expensive and more efficient.
Is It Important to Match your Outdoor Condenser to your Air Handler?
If you want to get the advertised efficiency (SEER) from your air conditioning system, you must match the condenser with the air handler. That's because the evaporator coil in the air handler must be matched to the condenser coil in the condenser. In fact, a 2008 study from the American Council for an Energy Efficient Economy found that "Improperly matched evaporators and condensers can reduce efficiency by 4 to 27%".
One way to think about how an air conditioner works is that the evaporator coil absorbs heat from inside your house, and transfers it to the condenser coils, which are located outside the house. The condenser coils then discard the heat. Therefore, the condenser coils must be able to discard as much heat as the evaporator coils are capable of absorbing. In general, then a 3 ton evaporator coil must be matched with a 3 ton condenser coil.
Let's imagine, for a moment, that you paired a 4 ton evaporator coil with a 2.5 ton condenser coil. The evaporator coil will send more heat to the condenser coil than the condenser coil can release, so the condenser coil will return heat to the evaporator coil. This will limit the evaporator coil's ability to absorb heat, so the system will have to run longer than it ideally would. This reduces its efficiency.
Not only will mismatched coils result in lower efficiency, they will also put stress on the cooling system and cause the premature failure of the coils, and in severe cases, failure of the compressor.
However, this does not mean that you must match an air handler / evaporator coil with an outdoor unit of the same brand. While those pairings have typically been tested (and guaranteed) by the manufacturer, the most important step is to match the sizes. Any qualified and licensed heating contractor can help you choose the appropriate units.
What Else Affects the Efficiency of my Central Air?
So far we have only discussed how the components of the condenser and air handler affect the efficiency of your system. However, there are at least two other important factors: the size of your system and the health of your ductwork.
Homeowners looking to replace their central air conditioner on the cheap often consider buying their units directly from a wholesaler. However, it is at least as important to work with a qualified contractor during the planning and purchasing stages as it is during the installation stage. That's because a good contractor will accurately calculate the size of the unit that you need, and they will carefully check the status of your ductwork to make sure that there are no leaks and that it is properly insulated.
A cooling system that is too large will turn on and off too often. This makes the system less efficient, costing you extra money through your electric bill. On the other hand, if you install a system that is too small, it may not be capable of keeping your house cool enough, or adequately dehumidifying it. To make sure that your system is properly sized, you want to ask your contractor to do a load calculation.
If your ductwork is not sealed properly, you can easily pump cooled air into your basement or attic, which means that you're spending money without making your home more comfortable. If your ductwork has a lot of conditioned air losses, and you don't discover them, you may end up buying a larger unit than you actually need, costing you more up-front and on your electrical bill.
Salt Air Exposure and Coastal Rated Units
If you live near the ocean you may be concerned about the corrosive effects of salt spray or salt mist. These can indeed corrode the mechanical and electronic components of your air conditioner. Almost all compressors are hermetically sealed, so you should not need to worry about salt entering the compressor itself. However, it can be very corrosive to the (typically aluminum) fins of the condenser coils. You can replace the aluminum fins with copper fins (at about twice the cost), but reports from the field indicate that salt can corrode the copper as well (although more slowly). Once those fins begin to corrode, your unit's efficiency will decline, until the fins literally disintegrate.
If you live near the ocean, you may want the cabinet of your condenser (the outdoor unit) to be finished with a coating that protects against salt spray. You will see many units that are rated with "500 hours of salt spray approval". However, even if you have a salt spray resistant coating, you will need to rinse the coils regularly to remove the salt. Many contractors suggest that homeowners located near the ocean should plan to replace their condensing units every 5-7 years, and those contractors often recommend installing less expensive units for that reason.
Why Trust Us?
Since 2002 our business model has been simple: to provide unbiased data on heating and cooling equipment to help homeowners and HVAC professionals make purchasing decisions.
Our air conditioner ratings are based on data that no one else has: thousands of reviews by consumers and HVAC professionals that actually own and operate the units that they review. There are more than 65 brands and more than 600 different series of air conditioners. Accurately choosing the best from that crop requires information on all of them, something most other companies can't offer.
We spend hundreds of hours every year examining reviews to eliminate spam and errors. This gives us a unique data set from which to identify the units with the highest satisfaction.